Working together to expand the ministry to reach more lives with the Hope and Love of Jesus 24/7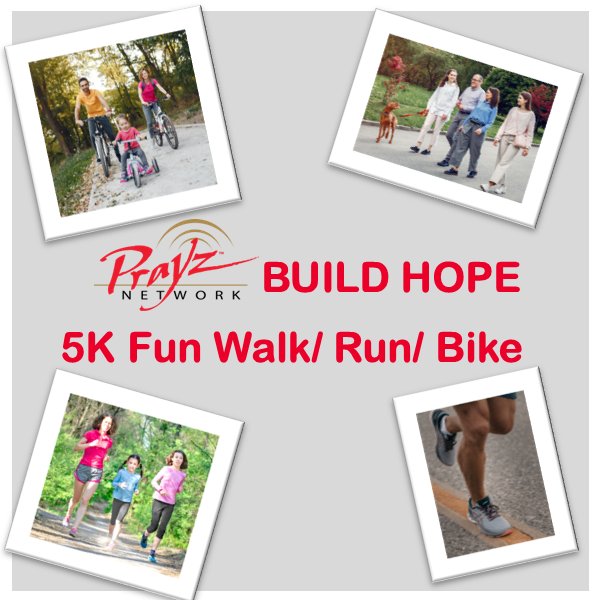 April 30th -May 7th, 2022
Register here: 5K Registration
Download your Race Packet here: Race Packet
Want to Sponsor a PrayzNetwork staff member? Click here: Sponsor and Donate
What's Next?
1– Register for the event at PrayzNetwork.com
2– Get a team of friends and family together to join you in the fun
3– Choose a location (park, hiking trail, neighborhood) for your 5K
4– Choose a Bible verse that your team can use as inspiration
5– Ask people if they will sponsor your run and help support our expansion
6– Share on social media and ask others to join your team
7– Have FUN walking, running or biking with your team
8– Submit pictures of your team completing their 5K. Tell us what Bible verse you used and where you walked/ ran or biked.
You can share on our FaceBook page or by texting 202-41-PRAYZ
9– Drop off or send your collected donation to the Prayz Network at: Prayz Network 2409 S. Black River St. Sparta, WI 54656
Or submit your donations online at: PrayzNetwork.com/donate
10– Entries/ monies received by May 15th will be entered in the Prize Drawings
Prize Drawing Levels (one prize drawn at each level)
Every participant -entered for the Prayz Swag gift bag
Collects $100 in donations -entered for $50 visa gift card
Collects $250 in donations -entered for a pair of Zach Williams concert tickets at the State Fair
Collects $500 in donations -entered for a OneFest 4-pack of tickets
Thank you for supporting the ministry as we share the Hope of Jesus 24/7!!