(Please Select Your Thank You Gift Below)
How to Give?
THANK YOU FOR SUPPORTING THE WORK GOD IS DOING THROUGH THE PRAYZ NETWORK: Sharing the Truth, Hope & Love of Jesus Christ 24/7!

As a thank you for your donation, we would like to offer you one of the helpful laminated reference pamphlets described below:
Please select your Thank You gift (choose one)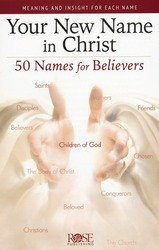 Your New Name in Christ
Experience the peace, confidence, and acceptance from understanding your identity in Christ with Rose's Your New Name in Christ Pamphlet. From Child of God to Light of the World and Bride of Christ, easily see 50 names on an easy-to-read chart, including references, meaning, and application.
Whether you're a new believer or a seasoned disciple of Christ, it's important to recognize and stand firm in the real and powerful transformation we experience in Christ. The Your New Name in Christ Pamphlet clearly lays out 50 essential names God gives all who believe in him in an easy-to-read, full-color chart. In just one quick glance, refresh and restore yourself and those around you with each name you have in Christ!
Perfect for personal use, Bible study, discipleship, new believers classes, small groups, gifts, and church giveaways. Size: 8.5″x 5.5″ unfolds to 38″ long. Fits inside most Bible covers.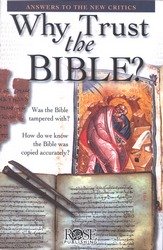 Why Trust the Bible?
Throughout history people have wondered, "What if the Bible was tampered with?" The bestselling Why Trust the Bible? pamphlet offers compelling and reassuring answers to these important questions: "Can the Bible be trusted?" "How were the stories passed down?" "How can we know that the Bible was copied accurately?" "Who chose the books in my Bible?" and "How reliable is the Bible?" Full color and glossy, this 12-panel pamphlet is an excellent teaching tool for new believers and for those who have questions about the Bible's origin.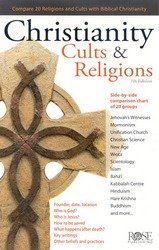 Christianity, Cults and Religions
From Muslims to Mormons, there are over 77 million people in America who do not believe in biblical Christianity, according to a recent PEW Report. Now you can easily compare their beliefs to Christianity with this quick-reference pamphlet! Over 1 million copies sold! Christianity, Cults and Religions is the Best-Selling Cults and Religions Comparison Chart. Compare 20 cults, sects, and religions.
No other Side-by-Side Cults and Religions Chart Gives this Concise Information: A Brief Overview of the Beliefs of each Religious Group in 150 Words or Less.
Christianity, Cults and Religions will help you know what you believe and why! Packed with side-by-side comparison charts, simple summaries, and up-to-date overviews, this easy-to-understand pamphlet will help you quickly compare the key beliefs of 20 different religions and cults to Christianity! See what they believe, what Christians believe, and how to correct common misunderstandings— at a glance! Strengthen your understanding of Christianity and get practical insight on how to reach out to those of different faiths, including Muslims, Jehovah's Witnesses, Buddhists, Mormons, and more! Perfect cults comparison handout for Bible Studies, Sunday school classes, and homeschool curriculum. 14 panels, fits inside most Bibles, 8.5 x 5.5 inches, unfolds to 38 inches long.
Prayz Network is a 100% Listener-Supported Non-profit (501c3) Ministry. All donations are tax-deductible.