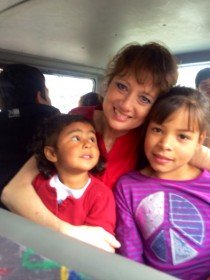 It is something I've always wanted to do-something I always wanted my kids to do, but never thought I had the time or money to make it happen. I knew it would be life-changing for me, but I wondered if it would really make a difference for anyone else.
In mid-January…my lifelong desire and questions were answered, as I went along on my son's senior mission's trip to Children's Vision International in Bogota, Colombia. After the initial culture shock of landing in a country where everyone speaks a different language; where motorcycles, buses and mini taxi cabs act more like bumper cars on the crowded city streets; where sewage spills out onto the broken, trash-littered sidewalks below; don't drink the water or flush toilet paper or ever walk alone…..when I saw beyond the broken infrastructure of south Bogota….I saw the immensity of the broken people who lived there. Faces forlorn and hopeless, faces young and old, faces hardened by years of despair, the dirty faces of children playing in trash – oblivious to the desperation all around them and to the bleak future awaiting them. The "street people," explained Children's Vision President, and Bangor, Wisconsin native, Jeanene Thicke, are called "desechables" or "disposables"-cast-offs, trash, throw-aways. Her mission for the past 20 years has been to rescue these street kids-to "change the destinies of the destitute." Could we really do anything to help make a difference during our 11 day trip? Or would it just some kind of noble vacation?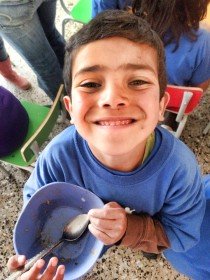 It didn't take long for us to see how demanding-emotionally, physically, financially, spiritually-rescuing these street kids and giving them a loving home and education, as well as a chance at life was- 24 hours a day, 365 days a year. And it didn't take long to see the contrast of happy, healthy, loved children inside CV to the brokenness outside. They are so consumed with trying to meet the day to day needs demands of transforming these precious lives, that extra things like painting the girls house and classrooms in the school, cleaning the skylights, baking special birthday cakes for each of the 100 children, sorting clothing donations and organizing school supplies and closets, just have to wait….wait for a team of volunteers like the Coulee Christian Seniors….to get those things done. A lot of work? Yes. Tiring? Yes. Rewarding? Yes. Life-changing? Yes. Not just for me, but for every one of us who went on the trip-and hopefully you were able to share the experience with us on Facebook and our daily reports.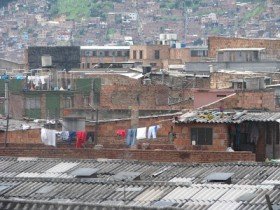 If not, be sure to stop by and check out more of the pictures at https://www.facebook.com/prayznetwork. Oh, and I'm still not sure how we raised all the support we needed for the trip….all I know is that with God, all things are possible! If you ever have the chance to take part in a short-term missions trip, I highly encourage you to go – your life will be forever changed.