National Collection Week isn't here yet, but you don't have to wait to donate! Operation Christmas Child accepts shoebox gifts at their headquarters year-round! They can be mailed to Samaritan's Purse, 801 Bamboo Road, Boone, NC, 28607. Many churches, families, and groups collect items monthly. It's good for each shoebox to contain at least one "wow" item, such as a doll or soccer ball, as well as other fun toys, hygiene items, and school supplies. If you make your own year-round packing list, be sure to include a mixture of these items, as well as one month for collecting the suggested $9 per box donation. Here are suggestions of monthly items for those who would like to pack year-round: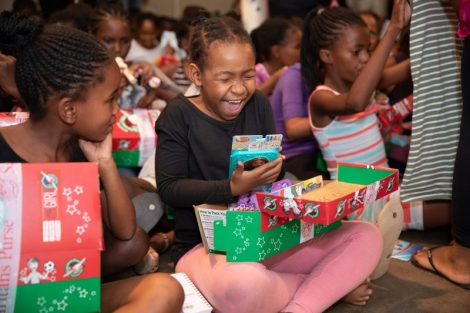 January – Hats, Gloves & Scarves
February – Dental Hygiene Items
March – Quality Crafts
April – Stuffed Animals
May – Hygiene items
June – Toys
July – Clothing Items
August – School Supplies
September – Games
October – Letter & Photo
November – $9 Donation
December – Prayer
Operation Christmas Child is a project of Samaritan's Purse, an international relief organization. Their mission is to provide local partners around the world with shoeboxes filled with small toys, hygiene items, and school supplies as a means of reaching out to children in their own communities with the Good News of Jesus Christ. Operation Christmas Child ships these simple gifts outside the United States to children affected by war, poverty, natural disaster, famine, and disease; and to children living on Native American reservations in the U.S.
To learn more, please visit:
www.samaritanspurse.org/what-we-do/operation-christmas-child
www.samaritanspurse.org/operation-christmas-child/frequently-asked-questions