Staff
Jeff Ozanne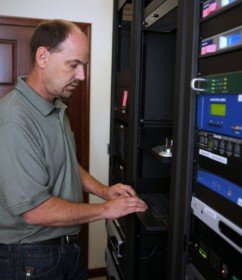 General Manager and Tech Guy
Jeff keeps the stations sounding great and makes sure all of the equipment is operating smoothly.
Besides managing the radio network, Jeff is also a Corporate Pilot, having been in aviation over 30 years.
When he is not up in the air or keeping the stations on the air, he likes to spend time with his family and hunting with his boys.
Favorite Bible verse: "Do you not know that those who run in a race all run, but only one receives the prize? Run in such a way that you may win." I Corinthians 9:24
Contact Jeff at: jeff@prayznetwork.com
Darla Ozanne

Jeff's wife, Darla, is Network Program Director and Announcer. You'll hear her weekday mornings from 6:30-11:00.
She's been in broadcasting over 20 years, having worked in Cleveland, Ohio, Knoxville, Tennessee, and Lima, Ohio, as a news reporter, TV talk show producer and co-host, etc…
She and Jeff have three children: Emily, 23, Jeffrey, 20, and Matthew, 16.
When she's not at the station, Darla enjoys bicycling, kayaking and spending time with family and friends.
Favorite Bible verse: "It is God who works in you, both to will and to do according to His good purpose." Philippians 2:13
Contact Darla at: darla@prayznetwork.com
James Abbott

Music Director and Programming Technican
James does an amazing job keeping our music library up to date. He is a talented musician and sound technician, and has a knack for tracking down obscure songs, artists, and bits of trivia. He also downloads all of our daily programs-making sure the right one airs at the right time.
He is extremely organized and has a full-time job keeping us all straight! Perhaps what we appreciate most about James is his ability to keep the station stocked with coffee and chocolate!
Besides music and being on his church's worship team, James enjoys ethnic foods and hopes to discover the secret to eating anything he wants while not gaining weight. If he ever figures that out, we'll be sure to share it with you!
Favorite Bible verse: "And we know that in all things God works for the good of those who love him, who have been called according to his purpose." Romans 8:28
Contact James at: james@prayznetwork.org
Alice Trost
Alice is our Programming Assistant ,and most recent addition to the Prayz Network crew.
She helps with general office work, updating the Prayz Network Facebook page and website, and on-air scheduling.
In her off time, Alice enjoys photography, traveling, and spending time with family and friends.
Favorite Bible verse: "Make sure that your character is free from the love of money, being content with what you have; for He Himself has said, 'I will never desert you, nor will I ever forsake you.'" Hebrews 13:5
Contact Alice at: alice@prayznetwork.com